WPI Advantages
For every production board:
Dwell & Parallelism
Process Control
Real-time Cpk
Automatic Profile Data Collection
Traceability
Technical Support 24 Hours Every Day Everywhere, Risk Free Guarantee All KIC products are designed to give maximum value and fast payback by streamlining your thermal process. Investment in a KIC product is a step toward total process control and quality management. All KIC products come with a no questions asked, 30 day money back guarantee. For more information on any of our products or service please visit us on the Web at: www.kicthermal.com or www.KIC.cn
Service Available
Technical Support
Installation and Setup
Application Support
Hardware Support
Guaranteed Warranty
Always knowing your production profile and dwell time!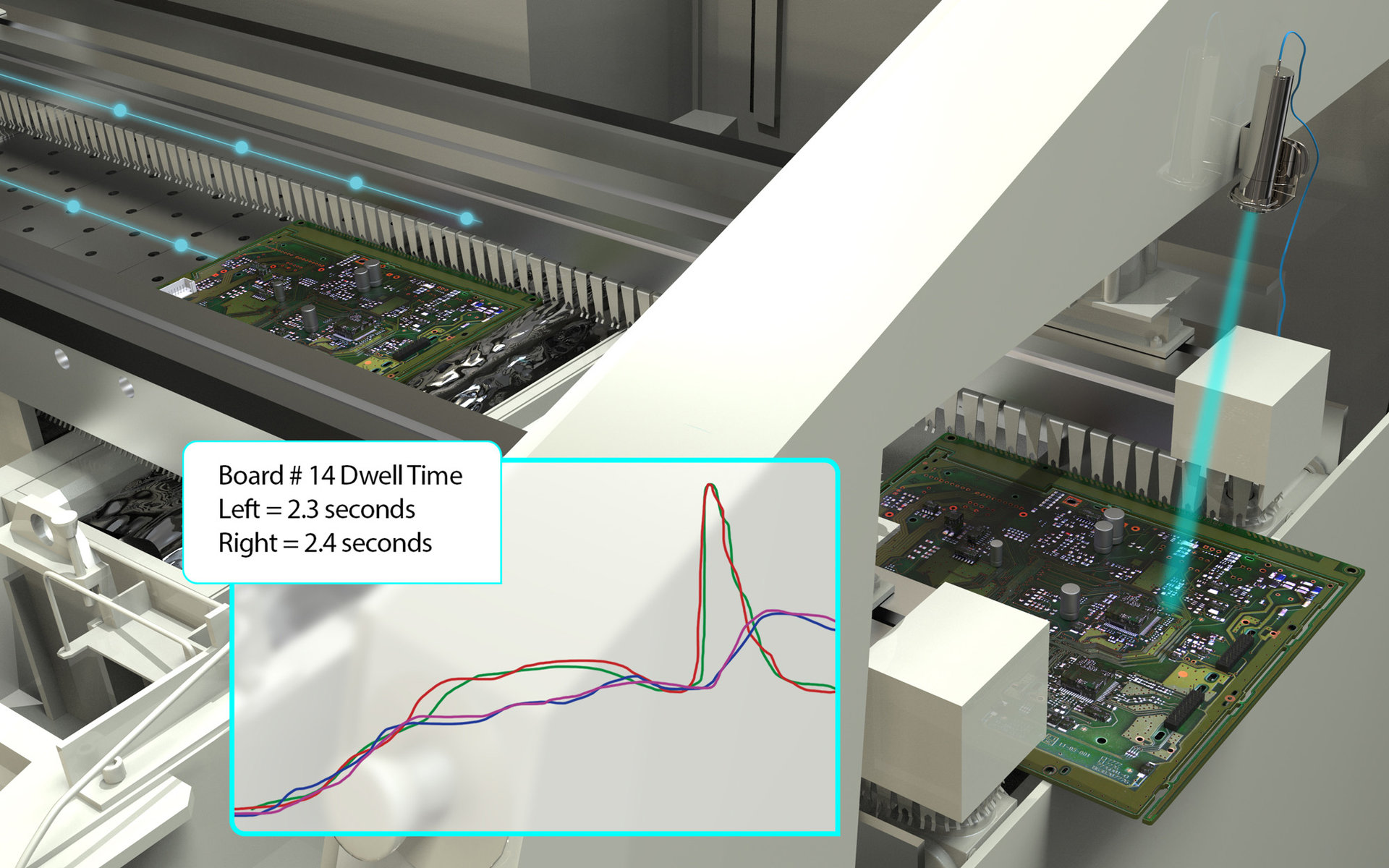 WPI — Wave Process Inspection
Innovative solutions and automation for the wave solder process including automatic profiling, real-time Cpk, real-time preheat and wave analytics, and 100% production traceability. WPI even calculates and displays the dwell time and parallelism measurements of each PCB processed. Get better insight into your wave solder process with the WPI.
Key Features
Embedded sensors which enable automatic measurement, recording and display of a wide range of process related details including:
Industry First! Dwell time and Parallelism per board
The Dwell (contact) time and Parallelism is calculated and displayed for each production board.
Complete PCB temperature profile through preheat and solder wave
User selectable specifications. Automatically calculate key process parameters.
Full process control and traceability
Confirm proper setup for a selected product before it enters the machine. Complete traceability linking profile temperature data and dwell time to each production board via the scanned barcode ID.
Real-time SPC/Cpk charting
The process results for each PCB are automatically plotted on SPC charts. Cpk is automatically calculated and saved. Warnings and alarms will be activated if trends in production indicate process drifts.
Real-time analysis
Intuitive troubleshooting shows deviations in your process, helping you quickly identify where process changes are occurring.
WPI Includes as Standard:
Recipe Optimization software
Process Window Index (PWI)
Interface with barcode scanning or MES output of board ID
Connectivity – Connection with factory systems and MES software
SMEMA interface at entrance conveyor
Audible/visual notifications of process conditions
Accuracy:
± 1.2°C
Readings/second:
13
Thermocouples:
Type K
Temperature Range:
-150°C to 450°C

Dimensions:

Data acquisition unit (LxWxH):
313.7mm x 158.0mm x 35.1mm
KIC Probe:
length and thermocouple spacing is customized to each machine
Communications:
Ethernet, RJ-45 connector
Computer Capability:
PC
Power Requirements:
12V DC @ 200mA
WPI System Components
Two (2) thermocouple proves (each probe has 15 thermocouples)
One (1) Pyrometer sensor
One (1) data acquisition unit
One (1) speed encoder
One (1) board sensor
One (1)alarm relay *
One (1) light tower *
One (1) KIC WPI software with software protection dongle
Note: The WPI requires a KIC profiler. Contact KIC for compatibility with your profiler.
 * Optional equipment with WPI—Essential
Computer Configuration
Minimum System Requirements
CPU: Dual Core / 1 GHz Processor PC 
RAM: 2 GB available
Video 1024 x 768 resolution / 16-bit
USB(s): 2 available ports (1 for data download, 1 for software key)
Ethernet and/or USB: 1 available Ethernet port or 1 available USB port for USB to Ethernet adapter
**Note: 2 additional powered USB ports may be needed for optional accessories