KIC SRA – Smart Reflow Analyzer
The Smart Fixture with Built-In Data Collection Module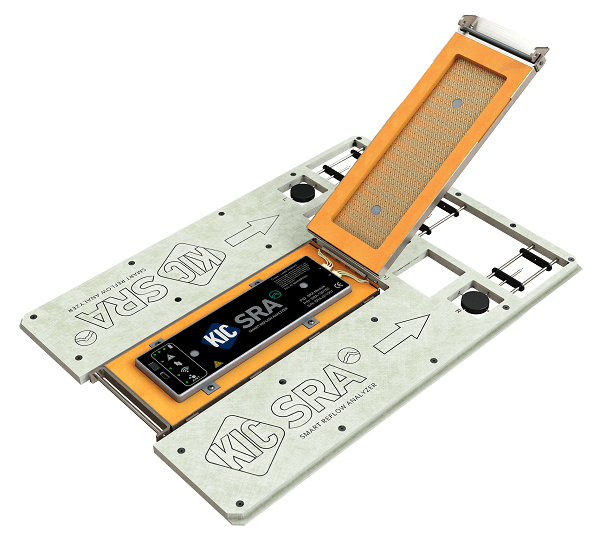 Identify and Track Machine Performance and Stability
Built-in conveyor speed measurement (No external sensors needed)
Heat Transfer Index (HTI)™ for each zone
Side-to-side and run-to-run comparisons
Track individual zone performance over time
PWI™ – instant process analysis with a single number
Basic Features
Fast and accurate manual data collection
Single screen overview with key machine information

Measured zone temperatures
Side-to-side uniformity per zone
Oven settings

Unique pallet design allows for more accurate measure of the ambient air temperature

Use as machine validation /verification tool

Familiar KIC Profiling Software 2G user interface
Solder paste specification library for process related calculations
SPC charting with Cpk for process specs: Cm/Cmk for machine related specs
Profile stacking capabilities for multiple runs between downloading. 30 profile capability.
Advanced Hardware: Material and Design
LCP (liquid crystal polymer) enclosure for better heat protection and fast cool-down between runs
Robust and durable enclosure and shield drop tested from 5 feet onto a concrete floor
Long lasting NiMH rechargeable batteries for a reliable and safe power source
Both wall socket charging and USB charging direct from a computer
Built-in Convenience
Intuitive insight into the oven stability
Quick data access and sharing
Real-time profiling via Wi-Fi through Smart Dock™ pairing using ANT technology (optional)
Integrated data collection module – no separate profiler needed
Automatic shutoff for improved battery life
Secure and easy thermal shield opening and closing
Instant data analysis

Machine stability and repeatability
Zone efficiency
How well the profile accommodates the process window
HTI – Heat Transfer Index™
A measure of a zone's energy transfer in a single number
The HTI™, or Heat Transfer Index, is a measure of the energy transfer occurring in a given zone. Effective heat transfer will generally yield a more homogeneous board temp (tight delta temperature across all components) and can allow for faster conveyor speeds (more throughput). The HTI value is calculated and displayed for each zone as a single number. The display of this index allows for fast and easy identification of changes in the performance of a given zone.
SRA Smart Reflow Analyzer Kit Contents
Smart Relow Analyzer
Smart Dock (Wi-fi-ANT) *May vary according to specific models ordered.
USB Cable (A-Male/Micro-B)
Gloves
Power Supply
USB Software Protection Dongle
Software CD
Electronic User Manual
Electronic Hardware Guide
Getting Started Guide
Calibration Certificate
Carrying Case
Computer Configuration
Minimum System Requirements
Dual Core / 1 GHz Processor PC with 2 GB RAM
2 GB available storage
Video 1024 x 768 resolution / 16-bit
1 available USB port (for data download or Smart Dock)
1 available USB port (for software protection dongle)
View the OS Compatibility Chart
Technical Support 24 Hours Every Day Everywhere, Risk Free Guarantee
All KIC products are designed to give maximum value and fast payback by streamlining your thermal process. Investment in a KIC product is a step toward total process control and quality management. All KIC products come with a no questions asked, 30 day money back guarantee.
For more information on any of our products or service please visit us on the Web at: www.kicthermal.com or www.KIC.cn
Service Available
Technical Support
Installation and Setup
Application Support
Hardware Support
Guaranteed Warranty