New Technology to Help Engineers Gain Insight into Reflow Soldering & Wave Solder Processes
Real-time dashboard
Automation
MES Connectivity
Big Data
Data Analytics
Machine Learning
24 Hour customer support
Risk Free Guarantee All KIC products are designed to give maximum value and fast payback by streamlining your thermal process. Investment in a KIC product is a step toward total process control and quality management. All KIC products come with a no questions asked, 30-day money back guarantee.
Data Does Not Create Meaning. We Do!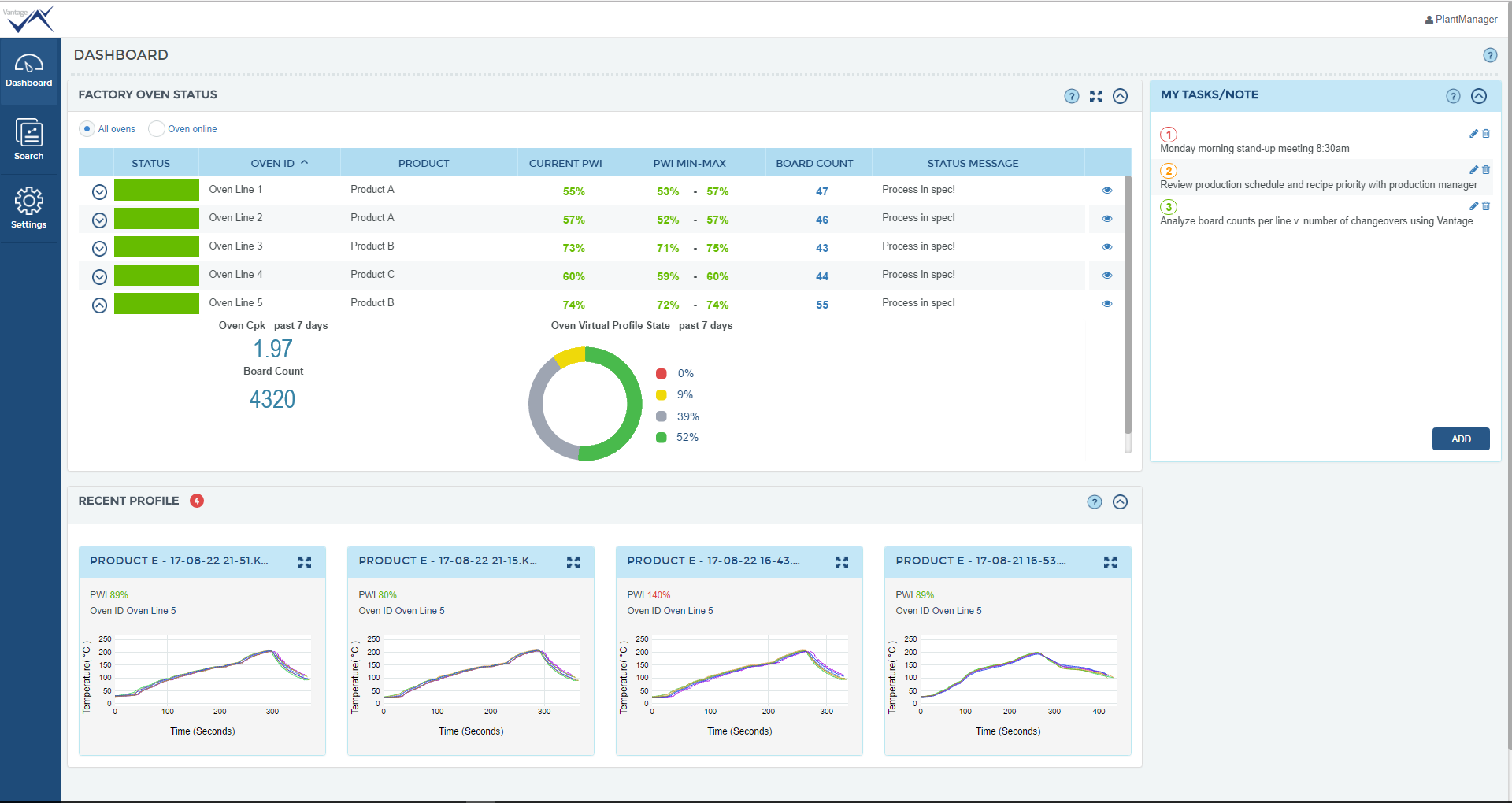 Real-time dashboard for all reflow ovens in the factory. Accessible from all authorized PCs and mobile devices anywhere
KIC Vantage is a factory level Industry 4.0 smart factory system for reflow and cure data management and analytics. It truly does give you the best vantage, gaining insight into your reflow and cure processes throughout the factory.
How does Vantage do all of this? By being a true Industry 4.0 system, with connected devices at each oven feeding data analytics to the Vantage database server on your factory network.
Actionable Data Anywhere, Anytime
Access to everything that Vantage provides is right at your fingertips with its browser based user interface.
Vantage System Components
Vantage software: Comprised of MS SQL database built into the Vantage server software. Accessible via browser. Additional uploader application installed on each PC where profiling and automatic system devices are used.
USB software key for licensing: users and options.

Vantage enables complete transparency and automated data collection; it streamlines reporting functions that were once tedious tasks taking up valuable time. Easily search and sort through all reflow and cure production data and generate reports on the precise information you need; oven, customer, production run and more. Create summary reports in PDF format and quickly send to your staff, supervisor or customer. Reports for Profiles, Production Runs, Multiple Lot Run Summary and more.